16 Guage Single Bowl Stainless Steel Farmhouse PVD Kitchen Sink
16 Guage Single Bowl Stainless Steel Farmhouse PVD Kitchen Sink
HIGOLD

Foshan, China

25-35 days

25,000 pieces per month
PVD Farmhouse sink, you can have Rose Gold color, Gold Color, Black color, SS Stainless steel color.
Topmount sink installation way. Customized in size and thickness.
Natural guardian from the inside out. Apron Sink front design for comfortable washing.
Inox Farmhouse kitchen sink, with colorful PVD treatment and Nano coating, easier to match different kitchen style
HIGOLD FARMHOUSE SINK
Product Name: Apron Sink
Item No.: 957023
Main Material: Stainless Steel 304
We can produce them in PVD Black, PVD Rose Gold, PVD Gold, SS Raw color.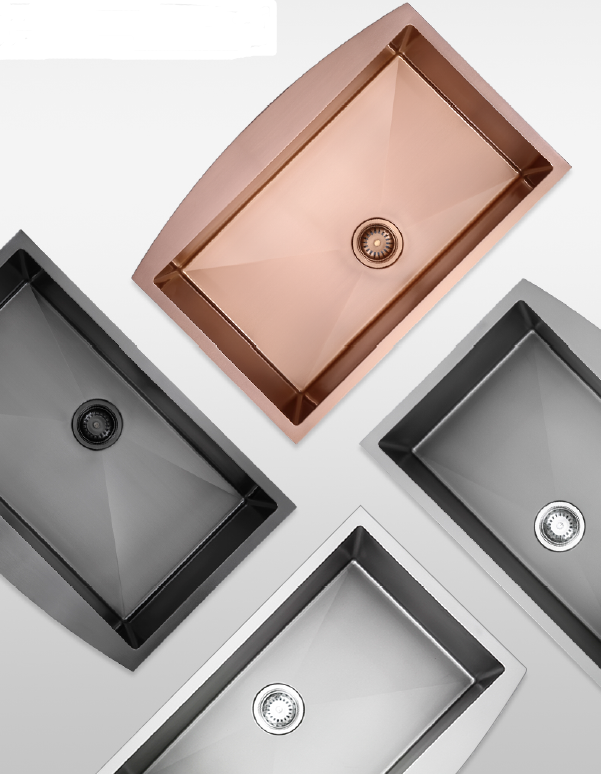 Product name: 16 guage single bowl farmhouse kitchen sink
Natural guardian from the inside out. Apron front design for comfortable washing.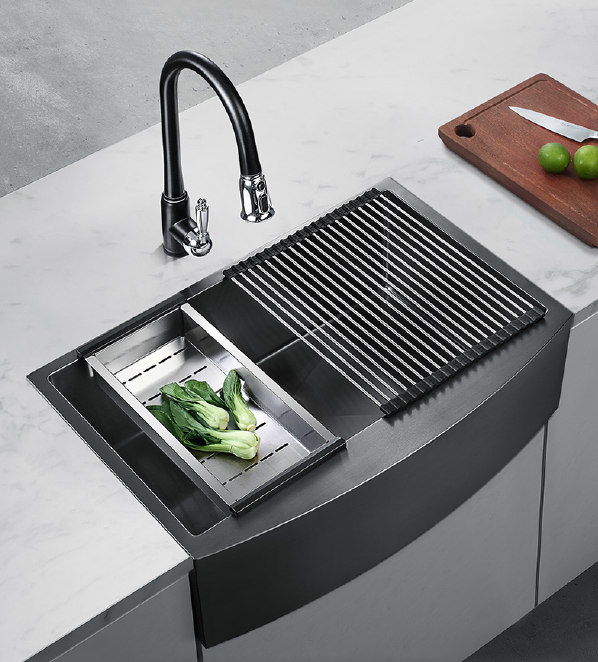 Natural guardian from the inside out:
1. Apron Sink Front Design for comfortable washing
2. 68L Big Volume for larger washing space
3. Easy Self-cleaning like dewdrop on lotus leaf
4. Nano Coating Film for scratch resistance
5. Pull-out Kitchen Faucet for easy rinse of corner dirt
6. Adjustable Colander for more flexible usage
Let's Explore the Mystery of Inox Farmhouse Sink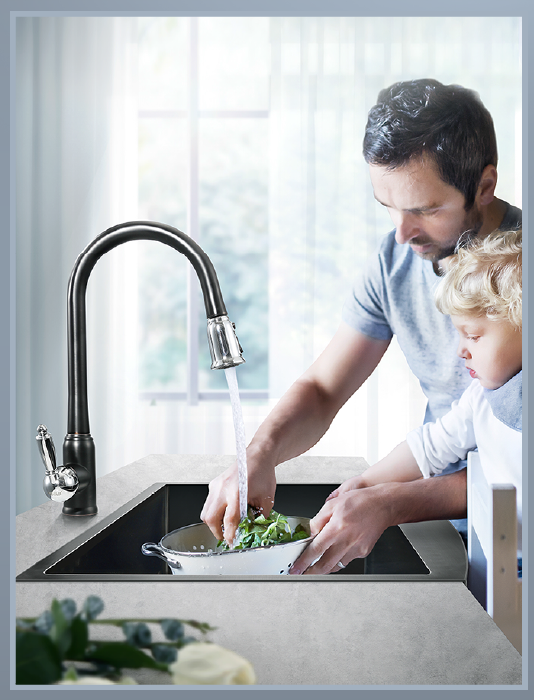 Sunlight is falling into the Apron Sink
The kids are frolicking beside the inox sink
Tasting delicious fruits
Feeling green vitality
Embracing fragrant flowers
Entering the mysterious farmhouse kitchen
Starting a wonderful culinary journey here
Secret 1: Large single bowl sink Washing Space
Apron front design for comfortable washing
Make full use of cabinet brim, shorten the distance between the person and stainless steel sink, to avoid the fatigue caused by long-time bending and cleaning.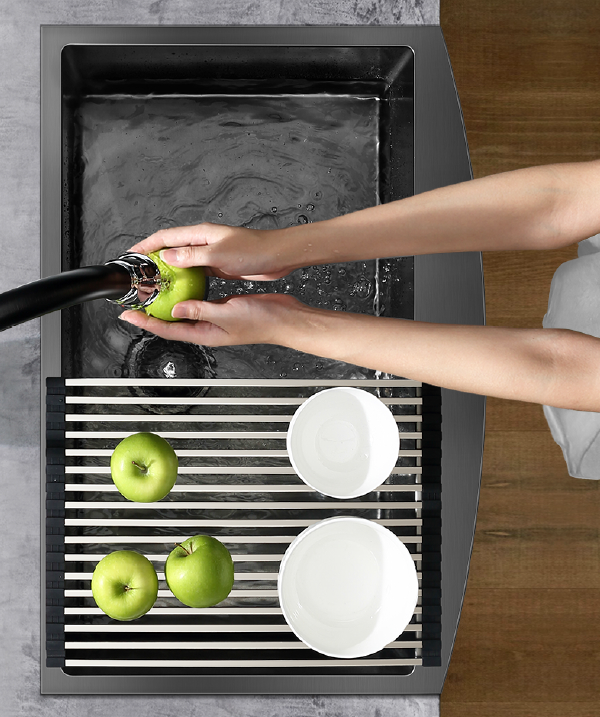 68L Big volume for easy accommodation of all pans and pots
Free up a wider space for cleaning, the pots and pans in the kitchen, the sweets and bitters in the life, can be accommodated easily.
1. R10 golden round corner
2. 68L big volume, a real big single bowl sink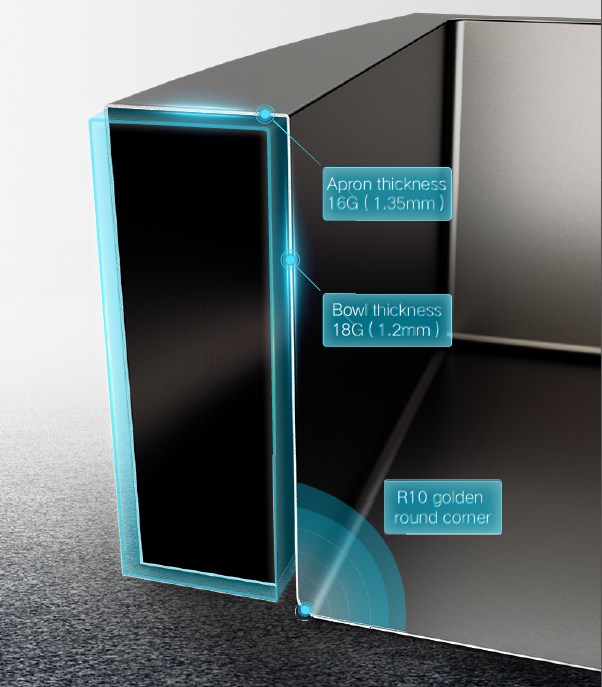 Flat apron with step meet the diverse aesthetic needs
Flat apron with step is another option. Stable and elegant, displaying the artistic style of farmhouse kitchen.
1. stainless steel 304, same as inox sink material.
2. 16G (1.35mm) apron thicknes
3. 18G (1.2mm) bowl thicknes
Secret 2: Efficient Self-Cleaning
Non-stick to oil and stain like dewdrop on lotus leaf
Inspired by the characteristic of lotus leaf water dripping into beads, the principle of bionics is integrated into the sink, let the smart beauty of the stainless steel sink appear in the kitchen.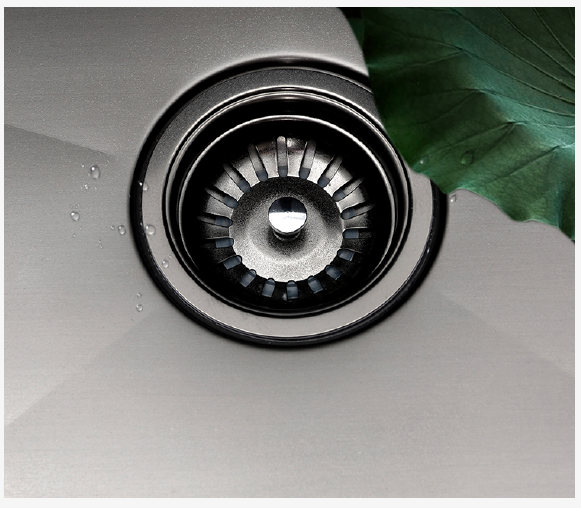 Bionic lotus nano air film, hydrophobic, oleophobic and anti-fingerprint
The handmade sink is covered with papillae smaller than water droplets, the air between the papillae forms a nanometer-thick film, makes the water droplets form a sphere due to their own tension, removing stains, rolling freely and self-cleaning easily.
1. Easy cleaning

2. Wear-resistance and and anti-scratch
Secret 3 : Various Accessories
Pull-out kitchen faucet for easy rinse of corner dirts
With the pull-out design of the faucet, the annoying debris at the corners can be easily rinsed to the garbage disposal.
Filter drainer, eliminate hidden blockage
Easy to deal with residues, faster and smoother draining.
Adjustable colander to fix the kitchen sink, flexible stretching for free placement
Humanized design, free to extend and contract, unlimited arbitrary placement.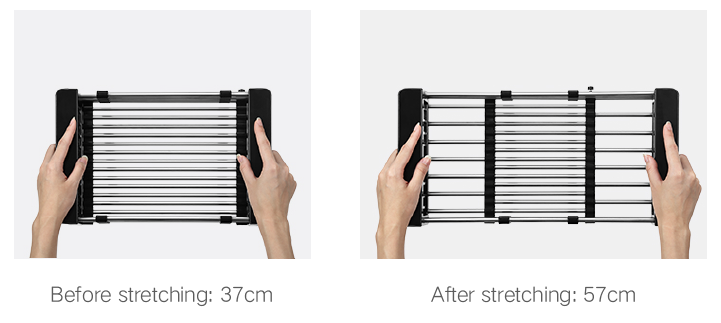 Foldable rollmat, more convenient for draining
Make full use of the space above the sink, more convenient and efficient for draining.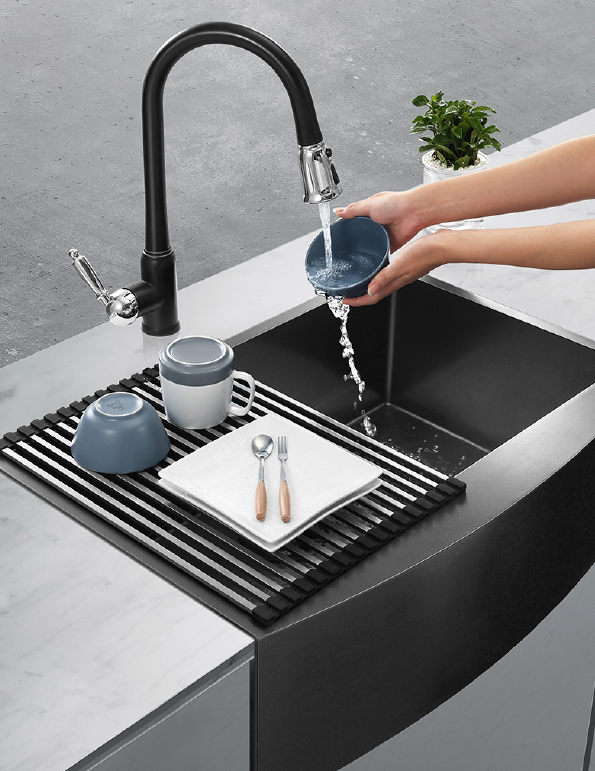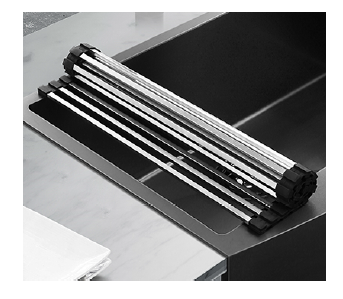 Stainless steel bottom grid, accelerate drainage and protect the sink
Accelerate drainage at the sink bottom, Protect the sink against abrasion.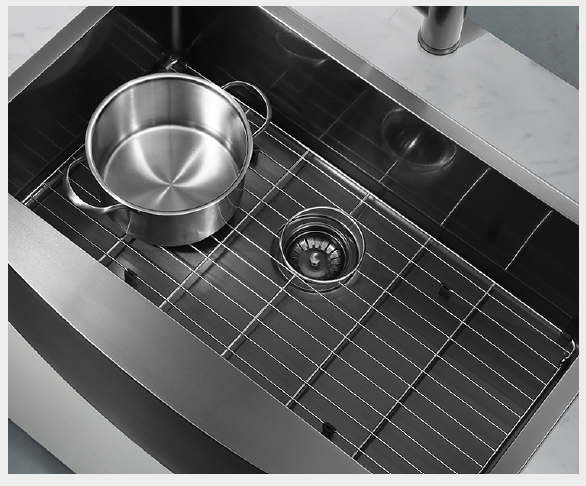 Various color, Arbitrary choice

1. PVD Rose Gold + Nano Coating
2. PVD Black + Nano Coating
3. PVD Grey + Nano Coating
4. Original stainless steel
My dear, it is a great honor to invite you to visit our kitchen sink factory. It takes about 1-1.5 hours by car from Guangzhou to our factory. We can arrange pick-up from Airport or hotel when you arrive in Guangzhou.
...more